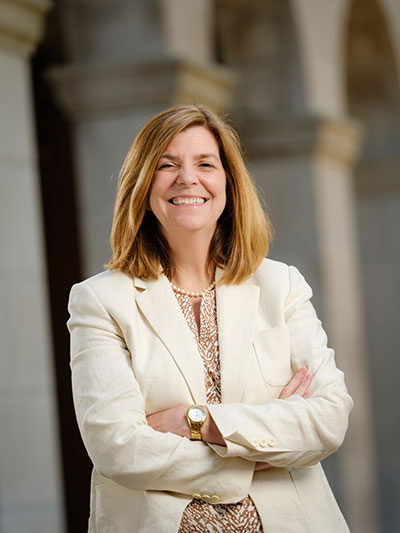 Michele Gillespie began serving as Provost on July 1, 2022 following 7 years as Dean of the College, where she led the first comprehensive core curriculum review in two decades, launched a five-year Diversity Action Plan across all academic departments, co-chaired the President's First Year Experience Commission, and implemented important new academic programming, including Wake Washington and the Environment and Sustainability, African American Studies, Engineering, and Biochemistry and Molecular Biology majors.
Gillespie joined the Wake Forest Faculty in 1999, was named Kahle Associate Professor in 2004, Associate Provost for Academic Initiatives in 2007, and Presidential Endowed Chair of Southern History in 2013, before assuming the deanship in 2015. She earned her M.A. and Ph.D. in History from Princeton University and her B.A. from Rice University, where she majored in History and English. Prior to Wake Forest, Gillespie taught at Agnes Scott College.
Gillespie is an award-winning teacher-scholar who strives to involve her students in community-based research projects. She has published two prize-winning books: Free Labor in an Unfree World: White Artisans in Slaveholding Georgia, 1789-1860 and Katharine and R.J. Reynolds: Partners of Fortune in the Making of the New South, as well as articles, book chapters, and 10 co-edited books on race, gender, class and political economy in the American South between 1780 and 1930. She has been president of the Southern Association for Women Historians; served on the Executive Council of the Southern History Association and multiple editorial boards, including The Journal of Southern History; and is co-editor of The New Directions in Southern History series for the University Press of Kentucky.