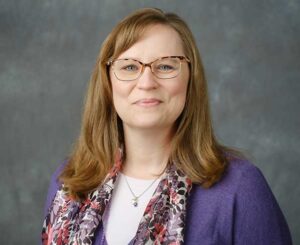 Associate Provost for Academic Affairs
336.758.5063
hardcaae@wfu.edu

As Associate Provost, Anne Hardcastle leads academic affairs support, academic priorities, and academic program development. In partnership with other campus offices, she also leads Provost's office programs in faculty development and recognition, hiring, diversity, and inclusion. Additionally, she manages institutional effectiveness measures, accreditation guidelines and standards, and assessment initiatives to support and strengthen teaching and research excellence in Wake Forest's academic units. In her role, Anne oversees the Center for the Advancement of Teaching (CAT), the Center for Learning, Access, and Student Success (CLASS), the Office of the University Registrar (OUR), the Office of Institutional Research (IR) and the Office of Civic and Community Engagement (OCCE).
Anne has been a faculty member at Wake Forest since 2002, and has held leadership roles for the last 8 years, first as chair of the Department of Spanish and Italian and currently as Associate Dean for Academic Planning in the College. She has served on the Core Curriculum Review Committee, as Chair of the Committee on Academic Planning, as Chair of Chairs, and as Director of the Film Studies program. She served on the university's Covid-19 planning team and currently serves on the university's Enrollment Projection Committee. In 2021, she led the College's work for the 5th-year SACSCOC review.
A faculty member in the Spanish Department, her teaching and research focus on contemporary fiction and film in Spain. Her recent scholarship explores the connection of melodrama and political feeling in films set during the Spanish Civil War. Anne earned her undergraduate degree from Texas A&M University and her Master of Arts and Ph.D. degrees from the University of Virginia.