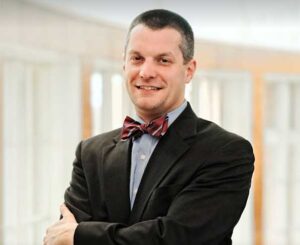 Senior Advisor for Strategic Initiatives
336.758.2537
phillimt@wfu.edu

As Senior Advisor for Strategic Initiatives, Matthew strengthens the alignment of academic priorities and presses strategic initiatives forward by identifying academic organizational effectiveness opportunities, building and implementing short and long-term strategic plans, and providing comprehensive and effective strategies for the best utilization of academic resources and effort. He also works with the deans, Faculty Senate, and other university offices on faculty governance initiatives.
Matthew has worked at Wake Forest since 2008 and is currently serving as the Exxon-Calloway Fellow in the School of Business. He has had numerous leadership roles within the university including past service as associate dean for MBA programs, director of an academic center in the School of Business, and chair of the University Priorities Committee. He also served as president of the Wake Forest Faculty Senate during President Wente's inaugural year where he recruited the senate's most diverse executive committee. Additionally, he served on the COVID-19 planning team.
Matthew has received numerous awards for excellence in teaching, including the "Ideas Worth Teaching" Award from the Aspen Institute in 2017, and was named the 2015 Charles M. Hewitt Master Teacher by the Academy of Legal Studies in Business (ALSB). He is now president of ALSB, which has more than 800 members and publishes three peer-reviewed academic journals. He received his undergraduate and law degrees from Wake Forest University and a Master of Divinity from Duke University.